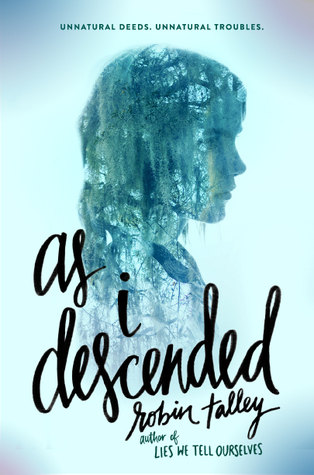 Maria Lyon and Lily Boiten are their school's ultimate power couple—even if no one knows it but them.

Only one thing stands between them and their perfect future: campus superstar Delilah Dufrey.

Golden child Delilah is a legend at the exclusive Acheron Academy, and the presumptive winner of the distinguished Cawdor Kingsley Prize. She runs the school, and if she chose, she could blow up Maria and Lily's whole world with a pointed look, or a carefully placed word.
Expected publication: September 6th 2016 by HarperTeen
I was a HUGE fan of Robin's first book 'Lies We Tell Ourselves' and I've been doing what I can to get my hands on any of her books when they come out. I was lucky enough to get an ARC of this book, though I wasn't sure just how it might work out, being so completely different from the historic fiction of the first book (though closer to the second book, which I haven't had a chance to read just yet). But I'm also a big fan of supernatural books, so I was on-board to see how this book went.
All in all, this book within the first few chapters were a dream book to me. Robin, like in her other book doesn't make the sexuality of her characters the main plot, but a side plot at the most (if even that). She also is good about adding diversity to books and no disabilities. All of which were part of a character, but not the plot, which is something I know a lot of people (including myself) have been desperate for in books. Not only that, but she like a lot of other authors recently decided to do a retelling, and this being Macbeth. Which is exactly the case in this book, where supernatural forces takes the main plot from the first chapter. The characters are seen as more than their sexuality and the disabilities are seen past, an issue that isn't often addressed in popular culture and in real life, it's addressed in this book. I loved that there was a mixture of cultures all coming together. It brings a Mexican Legend into the story and even brings the language into the story as well. Thankfully for us that doesn't speak Spanish well, there were translations throughout the book.
Looking at my notes for this book, for the most part I'm either pointing out key things I liked or editing issues that I won't bore you with in this blog post (I will have them sent the publication company however). Instead, here are a few more things I liked. This book has not only gay characters, but bi characters, along with those undecided. There are a few comments within the book that are sort of a joke to those who read YA books, such as one character saying 'Love triangles? Spare me'. I enjoyed that this book switches point of views throughout it. It leaves you wondering what if in different situations. Which characters are really the ones that can't be trusted? Is it supernatural things happening or is it something else? And I liked this questioning, even if I myself felt like I knew where this book was going.
I did enjoy the ending of this book and how it ended, however, there was some spots where the plot felt stiff and didn't fully explain things. The change within Maria seemed to happen too fast and I didn't fully agree with the sudden distance thrust between Lily and her. Not only that, but Lily's own change seemed to come out of nowhere and it made me question how they were the same person from the start and the middle of the book. I think it could have been written a bit more smoothly, that the end events still should have happened (because rarely do you see an author take this chance with their characters). Everything came full circle, but the middle left much to be desired. Areas that should have left my heart racing fell a bit flat, despite the fact I was very much invested in this story and characters. I feel like there should have been more questioning of the ghosts and events, that there was evidence in some cases that didn't point to supernatural right away to leave the reader feeling a need to question Maria and supernatural belief right away. Mateo might have questioned it until the end, but I felt like there should have been more for him to keep this footing. Because there wasn't, he seemed pigheaded and stubborn to the point of being annoying.
All that being said, I do think this book is something to consider reading and I've already suggested it to a few friends.
Rated – 4 stars