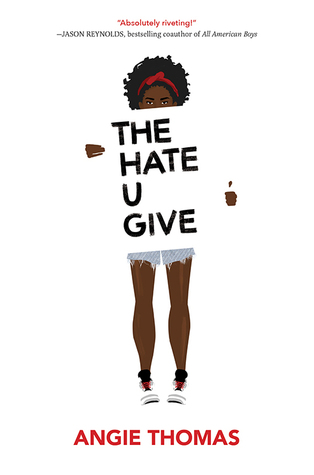 Sixteen-year-old Starr lives in two worlds: the poor neighbourhood where she was born and raised and her posh high school in the suburbs. The uneasy balance between them is shattered when Starr is the only witness to the fatal shooting of her unarmed best friend, Khalil, by a police officer. Now what Starr says could destroy her community. It could also get her killed.
I heard a lot of talk about this for months now, from bloggers to big name authors like John Green. It was actually John mentioning this book as a 'modern classic' that made me drop everything and add this book to my list to read this month for Black History month. And I'm so happy I did. Because this book has to be the most powerful book I've read in so long.
I'm not an emotional reader. But this book from the first chapter to the last made me put the book down and take deep breathes. My heart would race and I actually forgot more than once these characters aren't real people, though based off some. I felt every blow, felt panic and sadness and pain for these characters. I know, I say often I felt for characters, that I miss them when I'm done reading about them, but this book took it to a new level.
The issues in this book are real and ones we have to face and talk about. Because despite protests and people rioting, it's still happening. This book didn't take sides exactly. It balanced and talked about the fact that no, not all cops are bad cops, they aren't the issue, but until the bad cops stop killing innocent people. The most powerful quote in this book for me was about that. "And at the end of the day, you don't kill someone for opening a car door. If you do, you shouldn't be a cop".  Why this is important? This comes from a cop character. This book shows both sides, those who are effected by the deaths, that are the ones mad and fighting it. It's because of this its so important. Starr is a complicated character that we watch go through the stages of grief so visibly and what happens to her changes her life so much. It takes us inside this community and the minds of these people.
Not only all that, but the writing is beautiful. It's addicting. I couldn't for the life of me put it down until I reached parts I had to stop because I was shaking. So not only does it deal with complicated and tough issues, it does so well. A lot of writers try to take on big issues like this but their writing falls flat. Not this book. It's so well written that you start to actually hear their voices when you read, not your voice. I feared that the ending would fall flat, that it wouldn't hold up to the rest because the bigger parts were over. But that didn't happen. Not only that, this book is one of the few that handles time passing with skipping well. Which is one of my pet-peeves in books. I was so happy that this book didn't fall into that trap.
So yes. This book IS the most important book this year, maybe of our generation. I recommend it everyone that is 13 and over. Because it's possible that this book can help people who don't get the upset finally get it.
Rating: 5 stars. I would say more if it was possible.