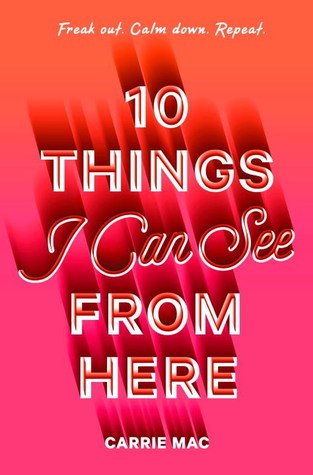 by Carrie Mac
Think positive.
Don't worry; be happy.
Keep calm and carry on.
Maeve has heard it all before. She's been struggling with severe anxiety for a long time, and as much as she wishes it was something she could just talk herself out of, it's not. She constantly imagines the worst, composes obituaries in her head, and is always ready for things to fall apart. To add to her troubles, her mom—the only one who really gets what Maeve goes through—is leaving for six months, so Maeve will be sent to live with her dad in Vancouver.
The idea of this book interested me for two reason: I'm always looking for more LGBT+ romances that don't center on coming out, being demisexual lesbian myself. And because Maeve's anxiety. I've suffered from chronic anxiety my whole life, and I must admit, this book did an amazing job showing anxiety as it. It can be completely crippling.
This book centers around Maeve, who suffers from an anxiety disorder, moving in with her dad for six months while her mom is off working in Haiti. It goes through the stress and complications of a dad with substance abuse problems, falling in love, the aftermath of a sexual assault, and a lot more. It talks about how Maeve came out, but it doesn't center around it, which is refreshing after reading so many coming out stories.
The writing in this book conveys the idea of anxiety well. It's scattered and a mess, your mind constantly going and going to things you don't want to think about. However, this sometimes makes the story unclear at different moments. One point Maeve is emailing Ruthie and the book states that Ruthie messaged her back almost instantly 'like last time'. But after that chapter you continue to read and realize that isn't actually the case, Ruthie never messaged her back. I reread that part again and again and I'm still confused why it was worded that way, if it was possibly a mistake in the editing.
There are a few things I DON'T agree with. One being that the idea is Maeve isn't allowed to be on anti-anxiety medication due to her parents wanting her to wait until her brain is done developing. But the book almost hints that people with anxiety just need a girlfriend to make things okay. Though it's not directly saying that, Maeve's anxiety goes down when she and Salix are dating. My fear is that this will become another 'magic cure' for people to tell us with anxiety that we just need a relationship to get better, that we don't need our medication, which is dangerous. I also don't agree with the fact the only person of color that we know of for sure in this book dies and dies pretty quickly. I think the death was a growing point for the main character, but it gets tiring having PoC die in stories just to further a main character who we don't actually know the race of.
I do warn people who read it though – this book deals with tough subjects. Suicide, substance abuse, abuse, sexual assault, gory details, homophobia, and death. I'm sure I'm forgetting a few. I think that this book wouldn't have been the same without it, but I think that there should be a fair warning to anyone thinking of reading this book that there are triggers.