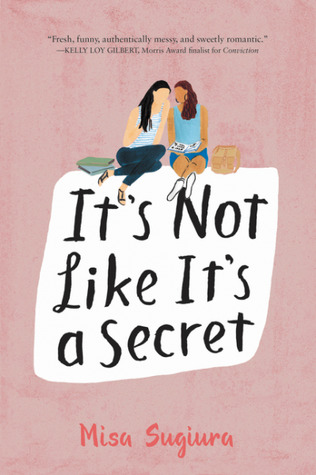 by Misa Sugiura
Sixteen-year-old Sana Kiyohara has too many secrets. Some are small, like how it bothers her when her friends don't invite her to parties. Some are big, like that fact that her father may be having an affair. And then there's the one that she can barely even admit to herself—the one about how she might have a crush on her best friend.
This book is about Sana, her Japanese parents, and the big piles of lies that they have. Sana's father takes a job in California, up rooting his family to move there. But Sana finds proof that the job wasn't really the reason there. Her parents aren't telling her something and she in turn starts her own collection of secrets – she's gay. She is stealing things from her father as proof of said secret. But she starts keeping her being gay from everyone else, not counting the girl she's dating.
Basically, this story starts out strong. It's an adorable contemporary that I needed with gay girls. And it's that. We follow Sana as she figures out her sexuality and falling for Jamie, a girl she fell for the moment she saw her. They flirt for half the book, finally kissing half way through. But it's from there things that things get uncomfortable. Sana's friends are supportive, but she still hides her relationship and flirts with Caleb, a 'friend'. Up to this point, you see racism through Sana's mother, who basically doesn't trust anyone different from herself and says horrible things. Sana is luckily the voice of reason for the first part of the book, which is key when you have racist material in stories without the book being racist itself. Which is important, because this admits that minorities can be phobic too, which is very much true. This issue arises when Sana stops being the voice of reason and says some horrible things about Mexican Americans, in front of her Mexican American girlfriend, yet Jamie isn't as upset about it as she truly deserved to be. Sana knows she saying horrible things, but she still does it. From there, things become messy. Jamie kisses her ex so Sana in turns kisses a guy and doesn't tell him she's gay. Basically, the second half of this book is a mess.
Like all books with romances, the idea is that they get together, break up, get back together in time for the end of the book. This was no different. But it was a mess and just felt like chaos. It was sweet what Sana did to get Jamie back, everything becomes clear, but it just fell flat for me.
As for the writing, I think it was done well for the most part. It felt like the mind of a teenager, which lets be honest is a mess just like the books ended up being. Teens say stupid things. They do stupid things. Which basically is the second half of this book. I enjoyed the first half more than anything and wish this book could have broken that familiar pattern, which is getting stiff and boring.
My recommendation on this one? Skip it until I can confirm if the racist material has been taken from the finished product, ad this was an ARC version.
Rating: 2 stars