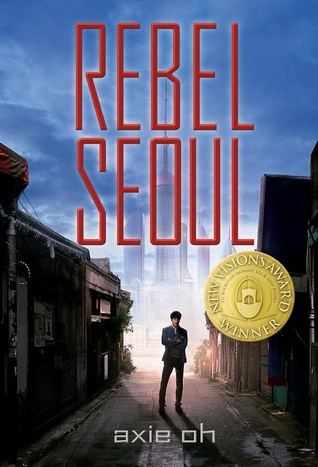 by Axie Oh
After a great war, the East Pacific is in ruins. In brutal Neo Seoul, where status comes from success in combat, ex-gang member Lee Jaewon is a talented pilot rising in the ranks of the academy. Abandoned as a kid in the slums of Old Seoul by his rebel father, Jaewon desires only to escape his past and prove himself a loyal soldier of the Neo State.
This book is often described as being based off Pacific Rim, which caught my interest. And let me say, it doesn't disappoint. This book doesn't read like a book. Part of me was surprised I wasn't watching a movie or an anime. It takes place in a not so distant future where Korea has once again been divided into two parts, Neo State of Korea and Unified State of Korea. Jaewon is a student in a military school in Neo Seoul from Old Seoul on a scholarship. He is taking his placement test for where he'll be placed for his mandatory military service. He's placed in charge of Tera, a super solider part of a new study to help make the next weapon to win the war.
Trust me, this book doesn't disappoint. There's never a dull moment in this book. And I know, I say this with nearly every book I read, but this one has to be one of my favourite books I've read so far this year. It shows us what the future of what war could possibly be like and what future technology could entail. We watch as despite the future being bright, we see that Old Seoul is lacking in technology, made up of the poor, orphans, and gangs. It's run by gangs and to survive at eight, Jaewon was forced into one. Old Seoul civilians are forced to leave Neo Seoul by midnight or face arrest. If these cracks weren't bad enough, we learn how the leader of Neo Seoul is abusive to his son, you see that the system is cruel within the horrible man that runs it.
This book has things in it I've been craving in a book for ages and it does it well. We have strong female characters that support each other, soft boys that support each other that happen to be in a  gang, robots, the main character not being the 'chosen one' but connected to them. We have male friendships that are important and loving, boys who aren't afraid to be seen soft and love their friends. We see girls unafraid of being close and weak despite being the strongest of the characters and most cunning.
 There were parts of the plot I was sure wouldn't be resolved, but this book did come through with it. Some of it I was able to guess but other parts I was left just as surprised as they planned it to be. I wish it hadn't ended in such a drop off. I could have used so much more, to see the aftermath a little more. It would have been nice to know for sure what happened next and what the future for Korea would be and the other Neo States around the world. But my guess is that the author wanted us to want more and wonder what would come next.
The writing was good. I felt like it was engaging and was vivid in its description of things. I could see the God Machines, I could imagine every character. The story goes fast and carries, it keeps things interesting and you aren't left bored, even in the more domestic scenes. The only issue is that time passes fast and you aren't sure how. Sometimes it feels like it was only a few hours or a day when weeks had gone by. I wish that was a little clearer, but that's really it.
I highly recommend it. I'm still gushing over this story and making a pinterest aesthetic board for it. I need more of this book and to talk about it with more people. So read it, so we can both talk about it together.
Rating: 5 stars