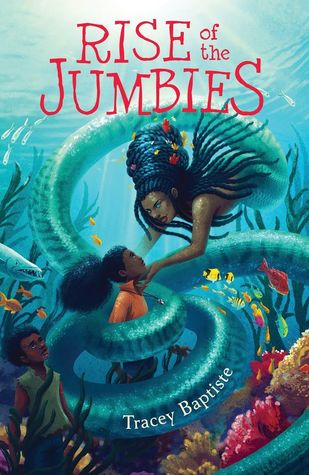 Corinne LaMer defeated the wicked jumbie Severine months ago, but things haven't exactly gone back to normal in her Caribbean island home. Everyone knows Corinne is half-jumbie, and many of her neighbors treat her with mistrust. When local children begin to go missing, snatched from the beach and vanishing into wells, suspicious eyes turn to Corinne.
To rescue the missing children and clear her own name, Corinne goes deep into the ocean to find Mama D'Leau, the dangerous jumbie who rules the sea. But Mama D'Leau's help comes with a price. Corinne and her friends Dru, Bouki, and Malik must travel with mermaids across the ocean to the shores of Ghana to fetch a powerful object for Mama D'Leau. The only thing more perilous than Corinne's adventures across the sea is the foe that waits for her back home.
First, I'd like to thank Algonquin Young Readers for sending me my first book from a publisher for Halloween this year.
Rise of Jumbies is the sequel to The Jumbies, both stories that will live you with chills despite it being middle grade books. Corinne is a young girl who has faced off with Jumbies to save both her town and the Jumbies themselves from her evil aunt. Corinne, half Jumbie herself, is a fierce girl who will do anything for her village, even if her village now doesn't trust her. So when kids start go missing, she is willing to go to far lengths to get them back, even if it brings her all the way to Ghana and back.
The thing I love most about these books, not just because it's helped me out of a reading slump, is the fact the author doesn't try to make Jumbies, a type of monster that was told to children to make them behave, kid friendly. One creature are kids that become possessed by spirits. The only way to tell is by their backward feet. Jumbies will give you chills and make you want to learn more about old myths and legends just as much as the story itself. Which makes it a perfect Halloween read for all ages, full of diversity and simply good story telling.
I personally loved the second book even more than the first book, weirdly enough. This one brought us Jumbies of the ocean where the first one gave us Jumbies of the forest on their little island. We got mermaids and what I could only call boss Jumbies of the water and land. We got off the island and go to Ghana and learn that despite the distance, both cultures still has a spirit of the water, just by different names. We get Corinne being cunning and fierce as ever, who is willing to make the ultimate sacrifice for the other kids of her island. The story is exciting and fixes what was left open in the first book while picking up the pace. I admit, I didn't see some of the bigger plot twists coming and laughed more than once aloud. This book is worth the hype around it. It's fun and beautiful.
I highly recommend this book to fans of creepy stories for all ages. I think that its stuff that kids wouldn't really find creepy or think too much about while adults get that chill from the descriptions while enjoying a fun story and the friendship between characters. Pick up the first book first, because it'll help give you a better understanding of Severine and the character of Allan, who becomes important in this story.
Rating: 4 stars