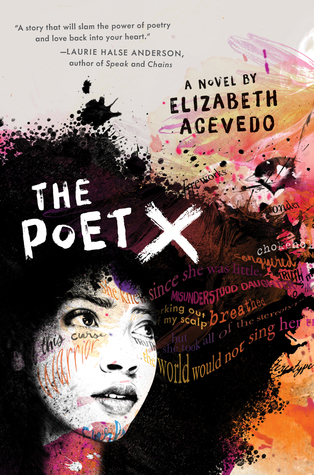 A young girl in Harlem discovers slam poetry as a way to understand her mother's religion and her own relationship to the world. Debut novel of renowned slam poet Elizabeth Acevedo.
Xiomara Batista feels unheard and unable to hide in her Harlem neighborhood. Ever since her body grew into curves, she has learned to let her fists and her fierceness do the talking.
But Xiomara has plenty she wants to say, and she pours all her frustration and passion onto the pages of a leather notebook, reciting the words to herself like prayers—especially after she catches feelings for a boy in her bio class named Aman, who her family can never know about. With Mami's determination to force her daughter to obey the laws of the church, Xiomara understands that her thoughts are best kept to herself.
So when she is invited to join her school's slam poetry club, she doesn't know how she could ever attend without her mami finding out, much less speak her words out loud. But still, she can't stop thinking about performing her poems.
Because in the face of a world that may not want to hear her, Xiomara refuses to be silent.
I really loved this book. It lived up to all the hype it's gotten since it's announcement and I'm so thankful I was able to read it. Xiomara is a first generation American who is trying to balance her life as such the best she can. Her family is from the Dominican Republic and her mother is extremely religious, only having married her husband to get to America. She tries to force these beliefs on Xiomara and her twin brother. But Xio is finding herself and questioning the things she's known all her life. She does so through poetry and is able to find her voice in it. But this doesn't come without hardships and cruelty when her mother finds out she's dating a boy and about the poems themselves.
The writing in this book is simply beautiful. It's done through poetry as Xio tells us the events that are some of her hardest to deal with. It makes these events more personal and brings you closer to her as a character. Though this book is something that is more focused on other first generation Americans that have to deal with finding a balance between their culture and the world they live in, I think a lot of people can still relate to different parts of this, such as questioning things your told to believe such as God and different things such as rules set by parents at this age.
I do warn that there is a lot of difficult subjects in this book such as abuse, sexual harassment and assault, sex, and a little bit about drugs. Sadly it's something that a lot of people have to face, more so now it seems then ever. I think this book handled it well though and more than once I couldn't help thinking how important this book is on subjects that are currently in the focal point of our news.
I highly recommend this book. It might not be for you, but it's not written for you. This book is for all the first generation teens and adults out there. It's about culture and finding balance. Even if it isn't for you, I recommend it to better understand such issues people face.
Rating: 5 stars